Executive Summary of Rice Milling Business Plan in Nigeria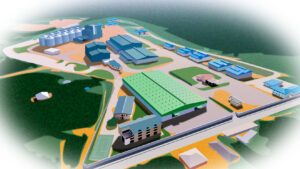 Rice, often referred to as "Nigeria's staple food," holds an important place in the country's culinary culture. As the population grows and dietary preferences change, the demand for high-quality milled rice continues to rise. Recognizing this opportunity, we provide a summary of the rice mill business plan specially designed for Nigeria.
We have created this article bearing you in mind, as we know that you will need comprehensive and detailed guidance to be able to succeed in your ambitions to own a rice milling business. This is a very stellar idea and you must be commended for finding this idea and deciding to go on the journey, undertaking and succeeding at it.
Join us in the world of rice mill entrepreneurship, a world where we have carefully turned raw rice into finely ground, ready-to-eat grains. So grab a plate of piping hot rice and let's take a look at the future of this booming industry in the form of what your executive summary should look exactly like.
Sample Executive Summary For Rice Milling Business
Here is a sample of rice milling business plan.
Business Overview:
This is the beginning section of your executive summary. It provides an overview of your business so that potential investors can understand exactly what your plan or idea is all about. Below is an example of what the business overview section of your executive summary should look like. 
Our business plan focuses on establishing a modern rice mill in Nigeria. Our main focus is processing raw paddy rice into high quality polished milled rice suitable for both domestic consumption and export. By investing in advanced technologies and implementing efficient manufacturing processes, we strive to provide the highest quality rice products that meet the diverse needs of the Nigerian market.
 Market Analysis:
This should be the second section of your proposed executive summary. This section will help you analyze your market and ensure that your potential investors see that you know your onions and are aware of the trends or updates in your industry.
Here is what that section should look like:
Rice occupies an important place in the Nigerian diet, making it a staple food. Demand for milled rice remains consistently high due to population growth, urbanization and changing food preferences. As Nigerians increasingly embrace a busy lifestyle, the convenience of readily available and ground rice becomes vital. With our rice milling business, we want to meet the steadily increasing demand and strengthen our position in the local market.
Products and Services:
Our main offering will be high quality milled rice, produced using the most modern milling processes. We will focus on different rice varieties including long grain, short grain and parboiled rice to cater to different preferences of Nigerian consumers. Our mill follows strict quality control measures to ensure our rice is free from contaminants and retains its nutritional value. In addition, we will offer attractive, functional and eco-friendly packaging options that appeal to environmentally conscious consumers.
 Marketing and Sales Strategy:
In order to gain a competitive advantage in the rice market, we will implement a comprehensive marketing and sales strategy. Our goal is to increase brand awareness and reach a wide range of consumers. We will use traditional and digital marketing channels such as television, radio, billboards and online advertising to maximize our brand exposure. Working with local distributors, wholesalers and retailers will facilitate the efficient distribution of our milled rice throughout Nigeria.We will also explore export opportunities by targeting regions with high demand for Nigerian rice.
 Manufacturing and processing :
The focus of our activities is a modern rice mill, which is equipped with the most modern processing machines and equipment. We will focus on maximizing efficiency and productivity by maintaining strict quality control throughout the grinding process. Using the latest technology, we are able to optimize processing times, minimize waste and improve the overall quality of our milled rice. We will also invest in a robust maintenance program to ensure smooth operations and minimize downtime.
 Supply Chain Management:
A robust supply chain management system is essential to ensure a consistent supply of paddy rice to our milling operations. We will establish strategic partnerships with rice farmers and local cooperatives to obtain high quality paddy rice at competitive prices. By building long-term relationships with our suppliers, we can ensure a constant supply of raw materials and maintain quality control. Effective warehousing and logistics practices also enable us to ensure a constant supply of paddy rice to our mill facility.
 Competitive Analysis :
The rice milling industry in Nigeria competes with several established market players. However, we believe that our commitment to quality, the efficiency of our operations and the satisfaction of our customers will set us apart. By constantly monitoring market trends and consumer preferences, we are able to adapt our product offering and stay one step ahead of the competition.
The focus on branding, customer loyalty and innovative packaging will help strengthen our market position.
Financial Projections:
Let them know your financial projections.
Although detailed financial projections are beyond the scope of this summary, our business plan describes the initial investments required in infrastructure, machinery, purchasing and marketing costs. We expect steady sales growth in the early years, driven by the growing demand for milled rice in Nigeria.Through prudent financial management, cost control measures and strategic decisions, we strive for profitability and a satisfactory return on investment.
Conclusion
In summary, the rice milling industry has great potential in the thriving agricultural landscape of Nigeria. By focusing on quality, efficient operations and a customer-centric approach, we can build a successful rice milling business. By seizing market opportunities, implementing modern technologies and adhering to strict quality control measures, we are able to meet the growing demand for milled rice in Nigeria. We are very excited for you as you embark on this exciting journey together with us to create the finest milled rice that will enrich the dishes of many Nigerians home and abroad.
In this conclusion part you must explain that your business aims to be the driving force behind the rice industry and ensure every meal is a delight.